SpiceWater® helps to provide flavorful and healthy hydration from naturally-occurring electrolytes, coupled with the best spices for added potential benefits – namely, our proprietary Tri-Complex of PhytoSureTM certified Turmeric, Ginger and Cinnamon.

Everything about SpiceWater® is about enhancing your overall health and well-being, including the fact that it's completely natural, organic, and free from anything artificial. Plus, it's very low calorie and very low sugar, making it ideal for drinking throughout the day, regardless if you're running a marathon, running after kids, or running to a meeting.
PACKETS TO POWER YOUR DAY
You need hydration camping in the woods, sweating at the gym, or waiting for your flight at the airport.

That's why we created SpiceWater® powder packets. Easy to pack, easy to pour, they're ready for wherever life takes you.
OUR FLAVORS
Bali Citrus Ginger
Mango Melon Chili
Persian Peach Cinnamon
VARIETY PACKS
Try Me Pack
Power Pack
Family Pack
Buy Now
COMING FALL 2018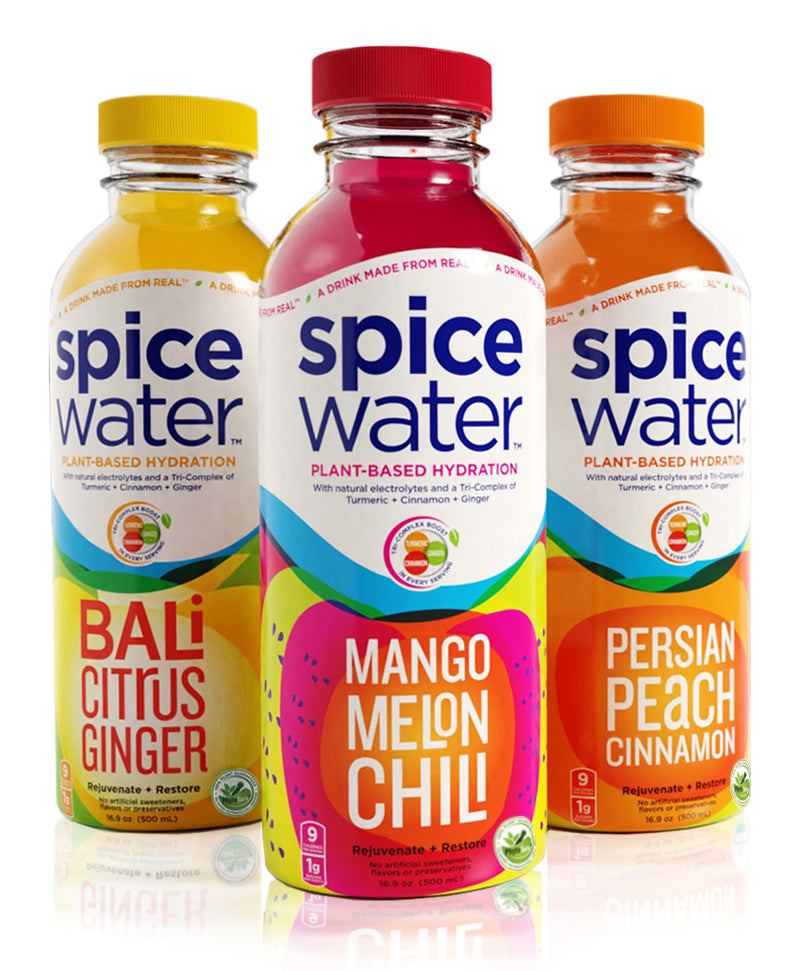 MESSAGE IN A BOTTLE, OR THREE
Life is best done hydrated. So, grab a bottle or three of our tasty elixirs, packed with goodness in every serving and set sail on your next adventure, even if it's just down the hall to Carol's new office.
OUR FLAVORS
Bali Citrus Ginger
Mango Melon Chili
Persian Peach Cinnamon
NOTIFY ME WHEN BOTTLES ARE AVAILABLE